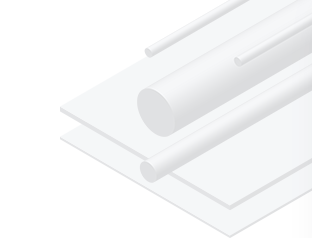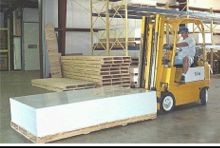 Polyethylene or polythene is the most commonly produced plastic.
It is a polymer, primarily used for packaging. As of 2017, over 100 million tons of polyethylene resins are being produced annually, accounting for 34% of the total plastics market.
It is available in a wide variety of grades and formulations that have an equally wide range of properties. From the polyolefin family of plastics, there are three common types of polyethylene: LDPE (Low Density Polyethylene), HDPE (High Density Polyethhylene) and UHMW (Ultra High Molecular Weight Polyethylene).
MPI stocks HDPE and UHMW in thicknesses ranging from 1/16" through 2" in UHMW and 1" in HDPE.
Brand Names
Gehr PE-HD
Gehr PE-UHMW
POLYSTONE G & M
TIVAR UHMW
High Density Polyethylene
High Density Polyethylene's rigidity and tensile strength are considerably higher than those of the low and medium density materials. Impact strength is lower, which is to be expected in a stiffer material. Values remain high, especially at low temperatures, when compared to those of many other thermoplastic materials. HDPE is often extruded with a pebble finish and is used as a cutting board in a variety of industry markets (meatpacking, butchering, etc.) as well as for home use.
MPI stocks both smooth and pebble finished sheets.
Ultra High Molecular Weight Polyethylene
Ultra High Molecular Weight Polyethylene is defined as polyethylene (PE) whose molecular wight is 3.1 million or higher. UHMW has outstanding abrasion resistance and an extremely low coefficient of friction. Impact strength is high and chemical resistance is excellent. Commonly used in conveyor wear strips, snowmobile track sprockets, guide rails and chain guides, bearings, paper machine suction box covers, parts of textile looms, linings for handling bulk materials, and other components requiring maximum abrasion resistance and impact strength and low friction coefficient.